According to data released by the Ministry of Transport recently, the national ports of china completed a cargo throughput of 3.631 billion tons in the first quarter, a year-on-year increase of 1.6%, of which the foreign trade cargo throughput was 1.106 billion tons, a year-on-year decrease of 4.7%; the completed container throughput was 67.38 million TEU, A year-on-year increase of 2.4%.
Among them, due to the outbreak of the epidemic in South China at the beginning of the year, port production and collection and distribution were affected. In the first quarter, the container throughput of ports in South China such as Shenzhen Port and Guangzhou Port showed a downward trend.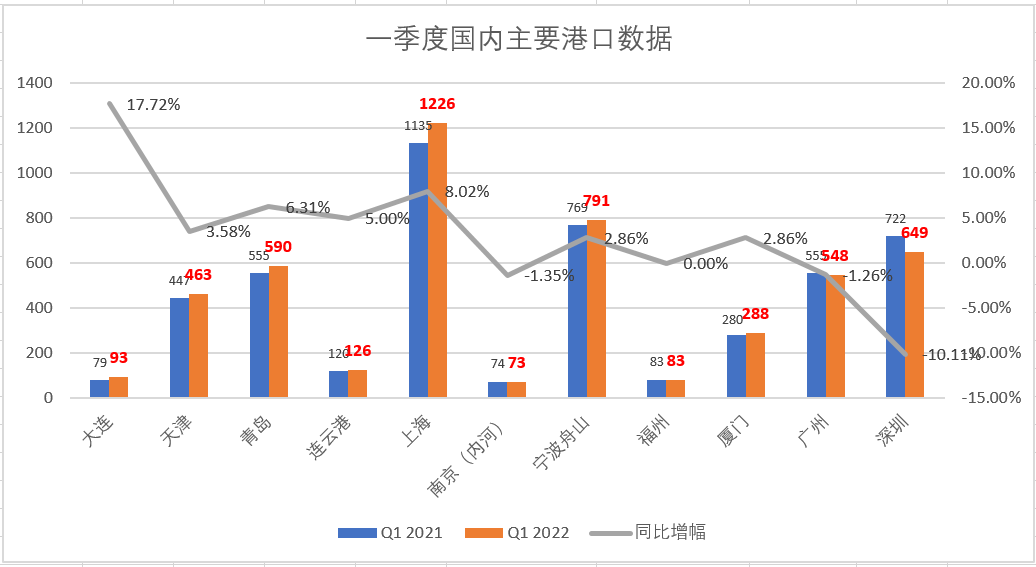 In the first quarter of 2022, the top ten ports in the country in terms of container throughput are: Shanghai Port (1st), Ningbo Zhoushan Port (2nd), Shenzhen Port (3rd), Qingdao Port (4th), Guangzhou Port (4th). 5), Tianjin Port (6th), Xiamen Port (7th), Suzhou Port (8th), Beibu Gulf Port (9th), Rizhao Port (10th).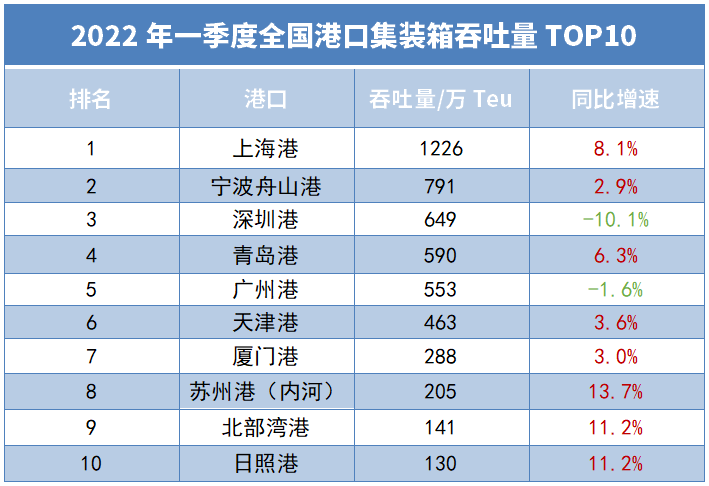 Combined with the TOP10 throughput list, compared with the same period last year, Shanghai Port, Ningbo Zhoushan Port, and Shenzhen Port are still firmly in the top three; Qingdao Port surpasses Guangzhou Port and ranks fourth; Tianjin Port, Xiamen Port, and Suzhou Port are stable. , the throughput has grown steadily; Beibu Gulf Port has risen in ranking, ranking 9th; Rizhao Port has entered the ranks of TOP10, ranking 10th.
2022 is the third year that the new crown pneumonia has swept the world. After experiencing the "big fall" in 2020 and the "big rise" in 2021, the national port throughput in the first quarter of this year has gradually returned to normal levels.
---
Post time: May-09-2022